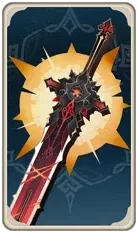 Mountain Trail: Wolf's Gravestone A longsword said to have been used by the knight of the north wind. It became endowed with legendary power owing to his friendship with the wolves.
| Card Effects | Cost |
| --- | --- |
| The character deals +1 DMG . Deal +2 additional DMG if the target's remaining HP is equal to or less than 6. ( Only Claymore Characters can equip this. A Character can equip a maximum of 1 Weapon.) | 3 |
Talk About Wolf's Gravestone
How do you feel about this card? Share your thoughts with others.
Comment List: