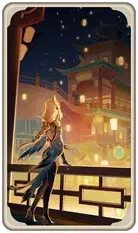 When the Crane Returned "The crane once returned, and once, she was spurned, she turned, and left alone; now, she might be found, with friends all around, to whom she is bound — a home."
| Card Effects | Cost |
| --- | --- |
| The next time you use a Skill : Switch your next character in to be the active character. | 1 |
Source
Obtained from the initial deck
Talk About When the Crane Returned
How do you feel about this card? Share your thoughts with others.
Comment List: