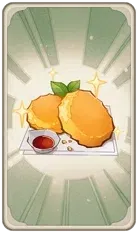 Mondstadt Hash Brown The sweet taste verifies the famous words of a certain famous gourmet known throughout Mondstadt — a dish that may be called a regional specialty cannot taste bad.
| Card Effects | Cost |
| --- | --- |
| Heal the target character for 2 HP. (A character can consume at most 1 Food per Round) | 1 |
Source
Reward for meeting the Player Guide's requirements
Talk About Mondstadt Hash Brown
How do you feel about this card? Share your thoughts with others.
Comment List: