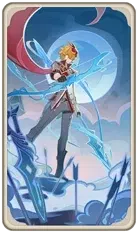 Master of Weaponry "Watch and learn, comrade! A real warrior isn't picky about their weapons!"
| Card Effects | Cost |
| --- | --- |
| Shift 1 Weapon Equipment Card that has been equipped to one of your characters to another one of your characters of the same Weapon Type. | 0 |
Source
Obtained from the initial deck
Talk About Master of Weaponry
How do you feel about this card? Share your thoughts with others.
Comment List: