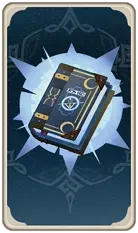 Bane of Storm and Tide: Magic Guide The 12th edition of the Magic Guide. It contains a great detail of errata, but nonetheless remains the most authoritative guide to magic in existence.
| Card Effects | Cost |
| --- | --- |
| The character deals +1 DMG. ( Only Catalyst Characters can equip this. A character can equip a maximum of 1 Weapon) | 2 |
Source
Obtained from the initial deck
Talk About Magic Guide
How do you feel about this card? Share your thoughts with others.
Comment List: