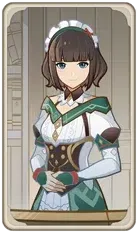 Katheryne, Guild Receptionist "Ad astra abyssosque! Welcome to the Adventurers' Guild."
| Card Effects | Cost |
| --- | --- |
| When you perform "Switch Character" : This switch is considered a Fast Action instead of a Combat Action . (Once per Round) | 2 |
| Fast Action You can continue with other actions after conducting 1 Fast Action. Only after conducting 1 Combat Action will the turn pass over to your opponent. Combat Action After you finish 1 Combat Action, it will be your opponent's turn. Playing a card from your Hand with this rule is also a Combat Action rather than a Fast Action. | |
Source
Reward for accepting Lan's Adventure Challenge in the open world and achieving all corresponding challenge objectives
Talk About Katheryne
How do you feel about this card? Share your thoughts with others.
Comment List: