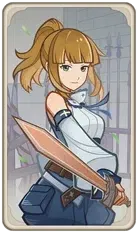 "Knightly Dream" Ellin "I've got to hone my spirit and strength both if my sword arm is to be as steady as Master Jean's!"
| Card Effects | Cost |
| --- | --- |
| When you use a Skill that has already been used in this Round : Spend 1 less Elemental Die. (Once per Round) | |
Source
Reward for accepting Ellin's Adventure Challenge in the open world and achieving all corresponding challenge objectives
Talk About Ellin
How do you feel about this card? Share your thoughts with others.
Comment List: