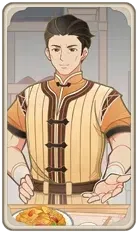 Chef Mao, Ingenious Gourmet "We just concern ourselves with making the most delicious food imaginable using everyday ingredients, universally loved flavors, and truly excellent cooking."
| Card Effects | Cost |
| --- | --- |
| After playing a Food Event Card : Create 1 random Elemental Die. (Once per Round) | 1 |
Source
Reward for accepting Chef Mao's Adventure Challenge in the open world and achieving all corresponding challenge objectives
Talk About Chef Mao
How do you feel about this card? Share your thoughts with others.
Comment List: